I'm excited to announce my recent affiliation as the Phoenix Concierge with www.TopTenRealEstateDeals.com, a new independent website offering exciting and unique Top 10 lists of today's best deals on real estate for sale. Their current featured new market addition is Phoenix, Arizona.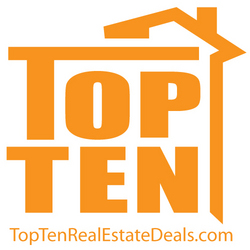 Finding the best deals for my buyers is nothing new, but searching through over 26,000 listings currently for sale in the Phoenix Metro area was a bit daunting. I'm glad I'll be able to feature new 'Ten Best Real Estate Deals' every month because there are A LOT of real estate deals in the Phoenix area!
The Phoenix list features the 10 best deals on Phoenix homes and condos for sale. Specifically, the Phoenix Top Ten list market coverage includes Chandler, Gilbert, Glendale, Maricopa, Mesa, Phoenix, Queen Creek, Scottsdale, Sun Lakes and Tempe.
It's old news that the Phoenix real estate market has been pretty hard hit over the last few years. This has created some incredible opportunities for buyers in our area. Just about anyone who has ever dreamt about owning home in the Valley of the Sun, can probably now find a home to fit their budget, from bungalows for under $75,000 to mountainside mansions at half their original price!
Over the past 4 months, the Phoenix area has seen a reduction in inventory and many multiple offer situations as buyers bid on these great deals. Experts agree this seems to indicate we have hit the bottom of our market and are starting to rebound. What a great time to pick up a deal on a home!"
After much research, my Top Ten Real Estate Deals are offered from a variety of different brokerages and represent some of the most sought out areas and amenities in metro Phoenix, from golf course properties and downtown urban lofts to Active Adult Communities and homes that are simply priced so low, you'll think it's a misprint. Welcome to Phoenix, the land of some of the best real estate deals in the country!
If you're an agent in the Phoenix Metro area, I invite you to email me with your BEST deals and I'd be happy to consider them for my next list!
This list is a welcome addition to TopTenRealEstateDeals.com's already extensive list of regional markets,  The site also offers a weekly Real Estate Top 10 list of national deals in the United States.
In addition to the best home and condo bargains, the Top Ten research team looks for fun, eye catching deals. Recent Top Ten listings have included a spaceship house in Chattanooga, a cave home in Missouri, and a haunted house in Massachusetts.  Now, how fun is that?